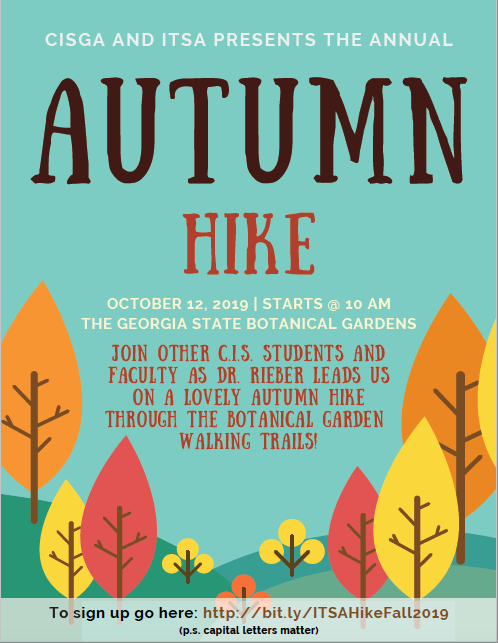 Join us in a special event sponsored by CISGA/ITSA: Hiking/Walking/Strolling at the State Botanical Gardens of Georgia!
The State Botanical Gardens of Georgia is one of Athens' treasures. Besides having an incredible array of flowers, trees, and shrubs from all over the world, it also has a wonderful network of trails. Please join us on Saturday, October 12, at 10:00 am for a relaxing outing to this wonderful place right here in Athens. (Admission and parking are free.)
The Botanical Gardens are located at 2450 S Milledge Avenue (Athens, GA 30606) about a mile south of the perimeter. Here is the web site with directions, hiking maps, information about the display gardens, and much more:
Dr. Riebr will lead the hike. If you are interested in joining us, please fill out this little survey, just so we know who to expect: https://docs.google.com/document/d/1BSQD-n1NwMtFT5O45pitI59di_LgkWGt1Mh2I3C-87U/edit?usp=sharing
We will meet at 10:00 am outside the Visitor Center (near the statues of the nature instructor and children). Come prepared to hike, walk, or stroll — be sure to wear comfortable clothing and good shoes for walking or hiking. (Bringing some water is also a good idea.) I will lead a hike on the White Trail — the longest trail at the gardens. Hike time is approximately 75-90 minutes. There are many other trails that are short to medium in length. The Orange Trail is also one of my favorites – it is about a 40-minute hike, goes by the river, and has lots of "babbling brooks."  You can also just stroll about and enjoy the gardens. There is something for everyone, including the recently opened Alice H. Richards Children's Garden!
CISGA/ITSA and I hope to see you there!